Outdoor Kitchens
California's generally sunny climate makes it a lot more desirable to spend time outdoors. On a hot and humid summer day, nothing is more refreshing than enjoying the cool, revitalizing breeze that nature has to offer. Now, imagine that same pleasure while cooking and eating.
But why just dream when you can enjoy the real thing? We at Gill Hardscape, Inc. can design and build you outdoor kitchens that are eye-catching, functional, and sturdy. From conceptualization all the way to completion, only one thing drives us: your ultimate satisfaction.
The Best Kitchen Designs for California Homes
Just like indoor kitchen, outdoor kitchens come in a variety of designs and possibilities. Our creative team can recommend designs from our comprehensive portfolio that will fit your backyard space, lifestyle, and budget. If you can't find a design you want from our design collection, we can customize one especially for you. Let us know if you prefer it covered or open, elaborate or intimate, well-accessorized or basic, and we will blend all these into one design based on your preferences and personal style. At Gill Hardscape, Inc., we love to make our clients' creative ideas come true.
Additional Features and Amenities
Outdoor kitchens make it possible for us to cook and dine outdoors. However, to make the experience a lot more special than it already is, there are additional features and amenities that we could add. These are meant to make this particular outdoor living space more convenient and functional depending on how you want your meals prepared. Here is a list of options for your outdoor kitchen and a brief description of each: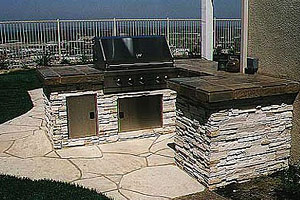 Grills

– you can choose from electric or traditional types.

Storage

– this includes drawers and cabinets.

Countertops

– more space for prepping, chopping, and serving.

Freezers and chillers

– to keep your drinks cool and food fresh.

Ovens

– to make baking a lot more convenient outdoors.

Sinks and faucets

– for washing your hands, food, and utensils.

Garbage bins

– an essential detail to keep your outdoor kitchen clean and mess-free.

Seating elements

– make your family and friends feel comfortable and relaxed while you cook.

Lighting fixtures

– essential for outdoor cooking at night.

Bar

– a great enhancement for frequent parties or simply for wine enthusiasts.
Outdoor Kitchens with Quality Craftsmanship
California is home to a lot of specialists when it comes to outdoor living. So, why should you choose Gill Hardscape, Inc.?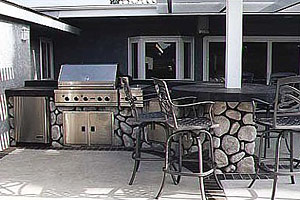 We believe that the best reward for our hard work is customer satisfaction, which is why we strive to provide our clients with unique, functional, and durable outdoor kitchens. Using premium materials and state-of-the-art tools and equipment, our team of builders will fulfill your dream of having a great outdoor living experience. When we are done with the project, you won't just see a new space, but rather an extension of your home and your heart's gastronomic desire.
If you're in Long Beach, Anaheim, or Fullerton and you want to cook and dine right in your backyard, then you came to the right place.
Call us
at 562-276-8910 so that we can start discussing the various options for your outdoor kitchens.
Cities that are served in California (CA):
Lakewood, CA
Cypress, CA
Long Beach, CA
Garden Grove, CA
Anaheim, CA
Fullerton, CA
Santa Ana, CA
Buena Park, CA
Westminster, CA
Seal Beach, CA
Huntington Beach, CA
Irvine, CA
Mission Viejo, CA
Fountain Valley, CA
Lake Forest, CA
Orange County, CA
South Bay, CA